"Peggo, thank you for your fantastic teaching. You are the best teacher I have ever had. You are such a great person, so beautiful, spontaneous, positive and respectful. I will always remember your voice and laugh!"
— Paula H.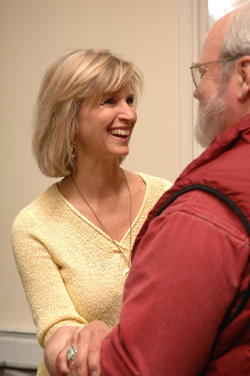 Peggo is an intuitive teacher whose goal is to help students connect with their true voice. In addition to her solid background in effective vocal technique, Peggo brings to her teaching a love for her students, their challenges and successes. Using an innovative, holistic approach, Peggo has helped hundreds of singers come alive through their voice. Whether in choruses, church choirs, private lessons, workshops or master classes, Peggo's students leave energized, informed and happy.
Master Classes/ Workshops
Releasing Your Vibrant Voice
Jazz Stylings and Vocal Improvisation
Singing from the Heart
Transforming Performance Anxiety
Vocal Technique
Voice Master Classes for Classical, Jazz, Broadway belt and legit styles
Contact us to find out how you can book an Artist Residency, which includes a Master Class, a longer Vibrant Voice Workshop, and a public performance by Peggo.